Asheville Thermoform Plastics makes most of our own tooling in house, helping keep both cost and turnaround time low.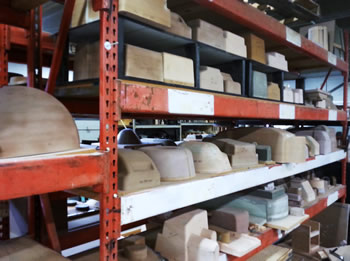 We can use your existing molds, reverse engineer tooling from your existing parts, produce molds and fixtures from your 3D model file, or design and fabricate all needed tooling to bring your design idea to production.
The type and thickness of plastic material to be molded, the complexity of the part's geometry, and the quantity of parts required determine which mold material should be used.  We can provide molds made from wood, urethane tooling board, epoxy, cast aluminum, or machined aluminum.
Parts trimmed on one of our 5-axis CNC routing machines are mounted on trim fixtures custom fabricated out of epoxy, lumber and a flexible gasket.  A part blank that looks almost identical to the forming mold is cast in epoxy using an actual formed part as the master. This blank is ventilated by channels that end in tiny pores in its surface. Vacuum applied to the trim fixture pulls the part tight to the fixture and holds it in place perfectly stationary while the CNC drills and cuts the holes and contours that transform a featureless shell into your finished part.
Tooling Materials
Low cost and easily worked, wood is used mostly to make 'disposable' molds for prototypes. Wood grain transfers to the surface of the molded plastic, which is often undesirable in a finished part. Because it expands and contracts readily with temperature and humidity changes and is subject to warping and splitting, wood is not a good choice for molds that will be reused over long periods of time.
Medium Density Fiberboard (MDF) is an engineered wood product heavier than natural wood with a hard, flat, smooth surface texture, controlled uniform porosity, which is stable in heat, cold and humidity. ATP uses MDF widely for shallow molds with a large surface area upwards of 4 square feet. Best for thin gauge vacuumforming, an MDF mold can last for years in low volume production.
Urethane Tooling Board is an extremely durable and wear resistant media designed to be machined to extremely fine specifications to produce precise parts for years. Tool board molds can be polished to produce glass-clear plastic parts. We CNC machine molds large and small from blocks of tool board 2 inches to 2+ feet thick. This is our top most-used mold material, suitable for forming any thermoformable plastic sheet up to .5 inch thick.
Temperature controlled Aluminum molds are practically indestructible; they won't warp, rot, rust or crumble and may be a necessity for some very high volume parts or for use with high-speed thermoforming equipment. ATP can utilize aluminum molds you may already have, or have one made.
Epoxy is used extensively in the fixtures Asheville Thermoform Plastics fabricates for use in the CNC finish trimming step of production.